Home > Kettler Garden Furniture





| | | | |
| --- | --- | --- | --- |
| Kettler Weave | Kettler Metal | Kettler Casual Dining | Kettler Sale |
The Kettler Garden Furniture ranges including Metal and Weave for 2015, has brand new designs and colours of cushions and parasols with the recognised traditional Kettler style and durability.
Kettler garden furniture is based on classic designs, has a simple natural beauty and due to the special Thermosint coating is warm to the touch. The original material and the elegant appearance invite you to linger and enjoy. Kettler's Mesh garden furniture is impervious to wind and weather, as the mesh allows the wind to pass through. Kettler garden furniture is dependably protected from corrosion by a special Thermosint coating, which will assure lasting quality year after year and allows Kettler to offer a 3 or 5 year anti-rust warranty.
All our garden furniture is delivered from us in Clitheroe, Lancashire and we aim to deliver your garden furniture order quickly with free delivery on orders over £100. In the unlikely event that you find garden furniture listed elsewhere for cheaper, we will try to match that price.
Browse Kettler Garden Furniture By Product
Browse Kettler Garden Furniture By Collection
About Kettler Garden Furniture
Since the Early Twentieth Century Art School Movements Germany has had a design led tradition for simple, stylish, and durable functional furniture which is both comfortable and easy to use. Kettler, who were first established in 1949, are very much part of that tradition with their ranges of Garden Furniture, which symbolise quality style and durability, bringing a touch of understated design to even the most un-designed garden, terrace, balcony, patio or outdoor living area .

Kettler Garden Furniture undeniably looks good, but just looking good is not enough for Garden Furniture so the Kettler ranges are built to be strong and tough, able to be left outdoors all year round with no maintenance needed, though still light weight for ease of use and movement. This ethos has led to the innovation, development and introduction of features such as the Thermoguard dual finish coating, which is now used on all mesh chairs and tables, which has been specially developed for outdoor conditions being designed to withstand all weather conditions to keep your furniture looking good in spite of the worst excesses of the United Kingdom's climate.

A feature which Kettler have chosen to provide for their Garden Furniture, which is very much appreciated by many purchasers is the flexible option to mix, match, pick and choose combinations of chairs and tables, along with cushion and parasol colour varieties, giving the benefit that the combination can be tailored to suit any individual needs both space and style wise.

Kettler have well earned, excellent reputation for well though out and put together Garden Furniture giving the benefit of a good looking, trusted investment for many years to come. Their Garden Furniture can be purchased with the confidence that you will be the owner of pieces which are designed to enhance your outdoor living experience without letting you down. To back up this reputation Kettler, who have been operating in the UK for nearly 30 years, offer full warranties on all their products which are backed up by a full UK based after sales service.
Kettler Garden Furniture Collections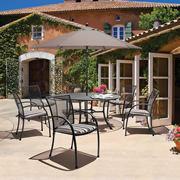 Kettler Metal Garden Furniture
Kettler's mesh metal furniture is absolutely weatherproof and wonderfully low maintenance. Every Classic Garden mesh product is treated with Kettler unique coasting process Thermoguard.
This process provides excellent physical, mechanical and chemical properties. In short it offers the best weather protection available and is only found on Classic Garden products.
Kettler Weave Garden Furniture
Kettler resin wicker is fully UV stabilised and weather proof so can be left outdoors all year round.
The 5mm round resin is hand woven onto a quality aluminium frame. Available in rattan and anthracite colourways.
Kettler Garden Furniture Ranges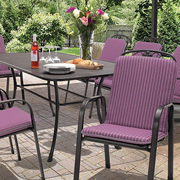 Kettler Siena Garden Furniture
Kettler furniture's best selling garden chair - the Siena chair has traditional styling combined with exquiste detailing plus a 5 year anti-rust guarantee.
The Siena can be matched to any of the Kettler mesh garden furniture tables in either 2, 4, 6 or 8 seat set combinations.
5 different cushions are available to match with the Siena chair which are all reversible.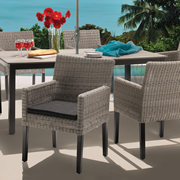 Kettler Bretagne Garden Furniture
Kettler Bretagne garden furniture is new for 2013 and is already proving popular.
The Kettler Bretagne chair is made from and all weather weave with a white wash finish and comes with a grey coloured cushion.
The rectangular poly-wood table has a wood effect finish top without any of the incoveniences of leaving wooden garden furniture outdoors. The Poly wood table requires little or no maintenance.